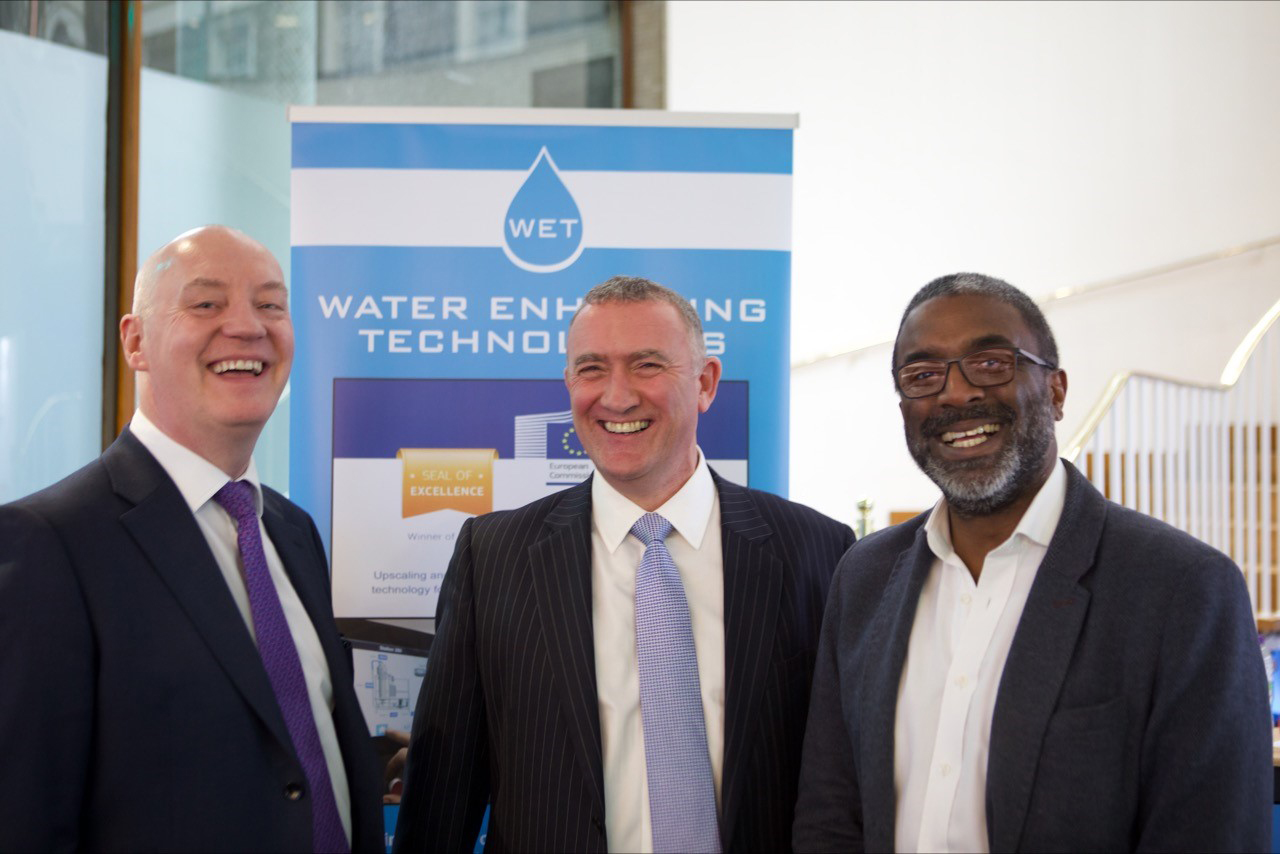 WET Holdings (Global) has struck a deal with waste-to-energy company Masef to turn millions of litres of water from a source in Eckington, Derbyshire, into microplastic free, super-premium alkaline drinking water.
The deal will see WET Holdings (Global) install its AES system, a unique water enhancement technology that removes pollutants – including micro plastics – from simple water, to convert millions of gallons of source water into super-premium alkaline water that is a better quality than mineral water.
Distribution of the water is scheduled to begin in October 2019 once Masef has completed the construction of the UK's largest Tetra Pak® production line: a move which guarantees all packaging used can be recycled.
This latest announcement comes following a demonstration of the capabilities of WET's AES system at the 2019 UK Bottled Water Conference in London on 12 March 2019 to major international brands, and follows the signing of a significant US deal, which will see the business install its technology at a major bottling company that serves customers across the breadth of the USA.
The contracts come on the back of a strengthened executive team headed by Michael Adams, founder and chairman, which sees Paul Gerrard, former managing director at GEA UK, join as CEO and Mel Ragnauth, formerly of Spiralite and Glint, as Chief Commercial Officer.
Paul Gerrard, CEO of WET Holdings (Global), says: "There have been a lot of misconceptions in the industry that we would need to make the impossible, possible, in order to make it commercially viable for simple water, or even mine water, to be turned into super-premium alkaline water. Importantly, the WET AES system does this without the use of expensive chemicals to keep the water alkaline rich – even after adding flavourings or CO2.
"For example, adding CO2 can cause the pH levels to drop below 4.5pH, and with high sugars, this can drop as low as 2.5pH. This can cause a number of issues, including acid erosion on tooth enamel. WET's technology is able to maintain a balanced pH, well above the acid enamel test."
Paul Gerrard continues:
"The deal with Masef is particularly exciting as it shows that our AES technology can turn any water into the best quality super-premium drinking water that is free of pollutants, including microplastics, and can result in products that contain no artificial sweeteners and no or reduced added sugar, without impacting on taste. Our deal in the US has come about for similar reasons.
"The AES technology will enable the production of alkaline water that can support flavourings, electrolytes, vitamins, proteins and other functional ingredients. This move opens the floodgates for sugar-free and microplastic free super-premium water and flavoured drinks to be accessible across the globe and could have major positive ramifications for the whole industry."
Gerrard brings with him a reputation for growing businesses, following a career in construction, architecture and agriculture. His knowledge of the agriculture industry could help realise the benefits of the WET AES system for the farming industry due to its ability to nurture improved quality of livestock and crops. Mel Ragnauth has an established reputation across the globe for bringing in investment and strategic, sustainable business planning across a range of disruptive businesses.
Michael Adams, chairman of WET Holdings (Global), says: "Paul and Mel joining the team has already reaped rewards with both directly involved in securing a major deal in the US and this exciting deal with Masef. The industry for super premium water is still very new, as is the technology to remove microplastics. The difference with our system is that it is a unique augmented water enhancement system which can produce clean, fresh tasting water with a stable pH which can be set at any level up to pH 10.5, creating alkaline water without the use of antibiotics or chemicals, and which keeps the nutrients locked inside."
Mark Newby, managing director of Masef, says: "This deal with WET is unique for us as it sees us step into a super-premium water drinks market and show the potential that this technology has for helping the environment and alleviating the global water shortage crisis. For the beverage industry, having technology available to produce super-premium water that tastes great without the need for additional sweeteners or added sugar will be a game-changer. We are looking forward to starting production."
The first products using the WET Holdings (Global) technology are scheduled for distribution across the UK in October 2019 and the US in May 2019.
For more information on Wet Holdings (Global), please visit https://wet-global.com/