Just 2.5% of the world's water is fresh, the rest is saline and ocean-based water that is not suitable for human consumption. Yachts and other watercrafts therefore require water treatment systems to allow them access to drinking water.
WET MARINE LTD. is a subsidiary of WET Holdings (Global) Limited and the commercialisation arm for WET water enhancement technologies for yachts and other watercrafts.
Yachts
WET can deliver, install and maintain bespoke high-end water treatment and enhancement systems for human consumption in yachts with the capability to control water salinity and microbial and chemical contamination.
ELITE Pi7 Faucet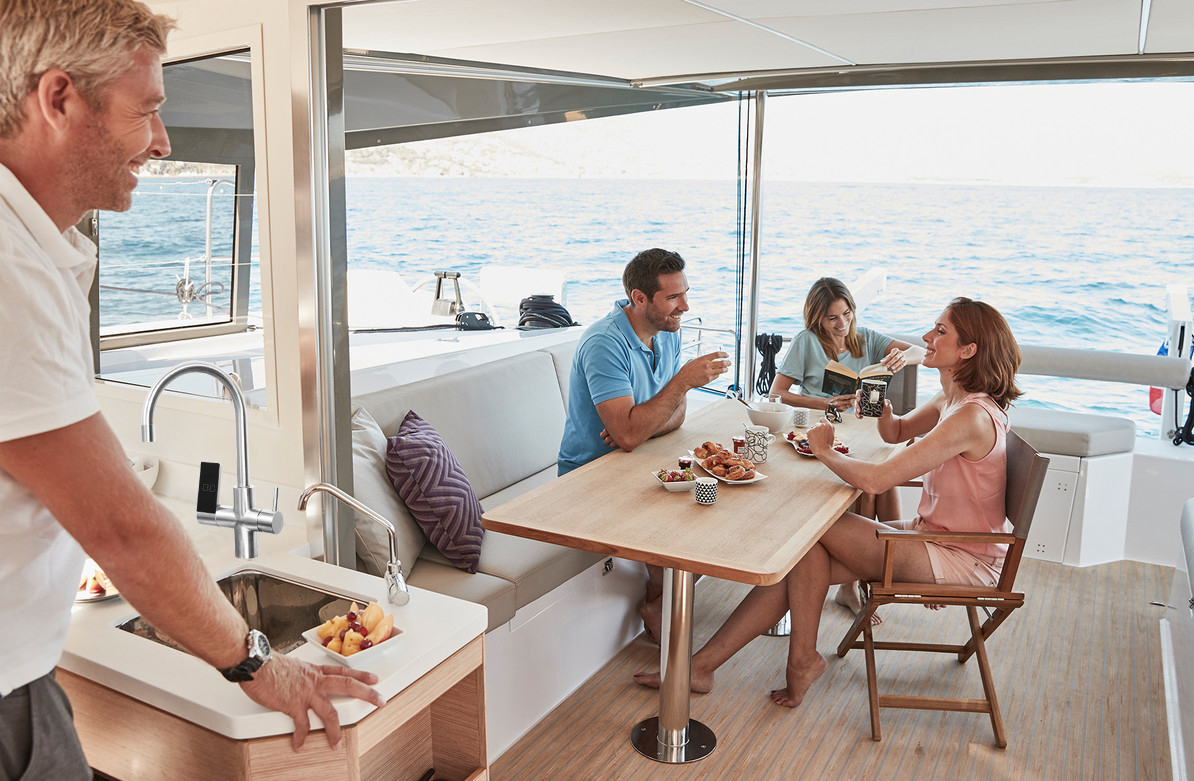 Elite Pi7 Marine Faucet
Introducing the revolutionary luxury Elite PI7 Marine Faucet by WET Marine. Now available for installation onto yachts, super yachts & mega yachts.
This multi-function product has been manufactured to the highest quality and finish, it is the only ratified faucet authorised to dispense the award winning, super premium alkaline Pure Ionic Water.
The finest water for the chosen few.
MODERN, ELEGANT, HIGH-TECH DESIGN, CONTEMPORARY
MARINE KITCHEN FAUCET WITH 7 DISPENSING OPTIONS.
Impressive design, exceptional build quality, high performance and high technology, perfect for integration within your kitchen units, also is a 7-way dispenser. 5 of the options are for Pure Ionic Water at room temperature, cold still, cold slightly sparkling, cold sparkling and hot (95°C with safety button), while 2 are for non-filtered water – cold and hot.
Touch Screen
A flat, stylish control panel: stunning design and maximum practicality for easy cleaning and maximum hygiene. The absence of mechanical buttons, thanks to the touch-screen controls, makes for simple cleaning with a sponge!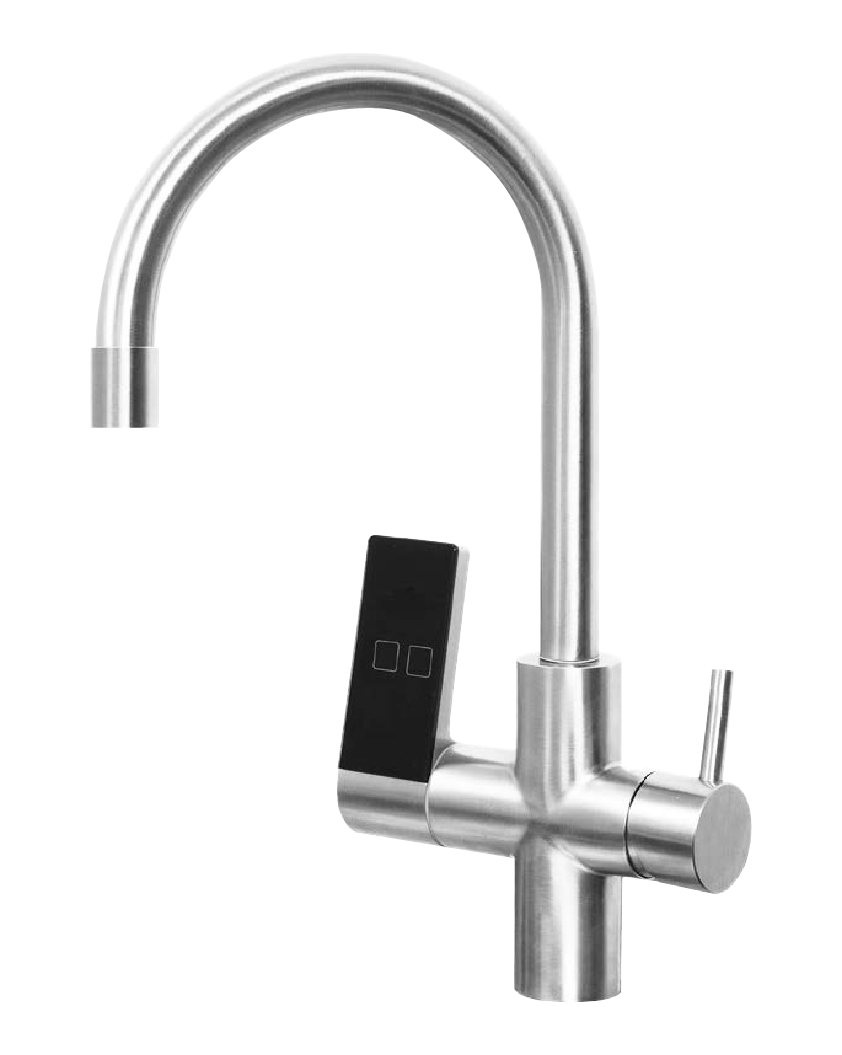 Unrivaled Versatility
The kitchen faucet with its numerous dispensing options alongside the whole home system it also offers great versatility whilst protecting against impurities and bacteria in the water. The Elite PI7 dispenses Pure Ionic Water a Superior Smart Electrolytical Energising great tasting Water that you can drink. Perfect bespoke High Quality faucet for your Home, Restaurant, Spa, Health and Wellness clubs, Hotels, Offices, Super Yacht, Marine.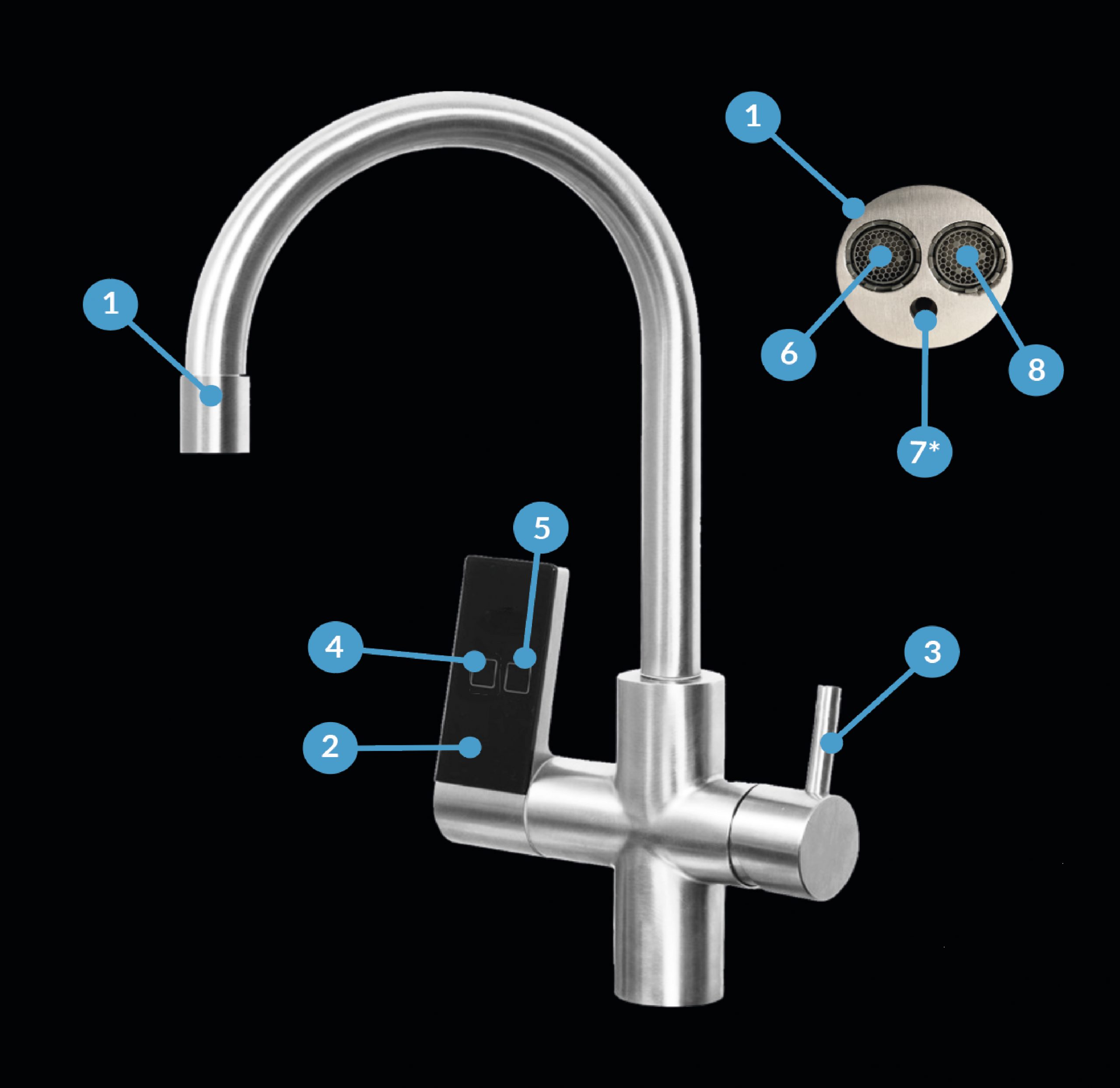 Water dispensing outlet

Touch screen display to supply filtered water

Single-lever mixer for dispensing unfiltered water

Left selector button

Right selector button

Non-filtered water outlet

Filtered hot water outlet (*hot versions only)

Filtered water outlet
For expression of interest or for detailed information, please contact us today!